Published on 31 January 2020
Posted in Floor Finishing
After installing or renovating a wooden floor, you are going to want to know how to protect your floor and improve its appearance. You can achieve this by applying two or three coats of varnish or penetrating oil on the floor surface. Alternatively, you can decide to apply a penetrating oil for the same results. Whatever choice you go with, you can relax knowing that your wooden floor has the protection it requires.
What are the main differences between oil and varnish finishes?
Though there aren't many major differences, you should never miss out on the following differences:
1. Maintenance
This is one of the main differences that any homeowner should be interested in. An oiled floor will need more maintenance compared to a varnished one. During the early stages, when an oiled floor is new, daily maintenance is the only way to ensure quality results.
Varnished floors, on the other hand, require significantly less maintenance in the long run. This can, however, depend on the kind of varnish you use on your floor. Two-part varnish with hardener is known to deliver better results compared to entry-level grade products.
2. Durability
Even though your maintenance efforts can affect the durability of the floor, the truth is that varnished floors are more durable compared to oiled floors. The lifespan of a well-varnished floor is usually between 5 and 10 years depending on the type of varnish used, and how busy the house gets. Oiled floors, on the other hand, won't peel, crack or flake but won't last so long.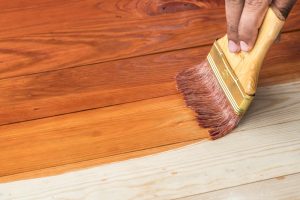 3. Re-application signs
The following are the main signs that you should re-oil or varnish your floor:
  Floor gradually begins to show signs of wear

  Timber grain appears to be more noticeable

  The floor gets dirty so easily and becomes dark

  The wood looks abnormally dry

  The floor seems to scratch easily

  Your furniture legs appear to effortlessly scratch the floor

  Wear and tear becomes more apparent in the areas that handle a lot of traffic
4. Ease of repair
The truth is that your floor will eventually become damaged no matter how hard you try to protect it. Even though oil finishes aren't as effective as varnish in preventing floor damage, an oiled floor is significantly easier to repair compared to a varnished one.
Choosing the right finish for your floor is so important. Nonetheless, you now know that varnish is the right product if you wish to preserve your wood's original appearance for an extended period.  An oil finish, on the other hand, is the right choice for a homeowner who believes that wear gives their floor character. Also, an oil finish can be the perfect choice for when you have just sanded your floor and don't think it can handle another sanding. With oil products, you can recoat as required without necessarily sanding off the existing finish.
Contact Us Today
We hope that our blog has helped you understand the difference between varnish or oil for wooden flooring. If you have any questions please don't hesitate to call us on or alternatively head over to our contact page to fill in our online enquiry form and one of our friendly team will get back to you as soon as possible.