Published on 28 October 2022
Posted in Uncategorised
Hardwood flooring is a brilliant addition to any home. It looks fantastic, comes in a range of styles and colours and is totally unique based on the wood grain. Wood floors are also easier to keep clean than carpets and are less prone to staining. This means they can last a lifetime if you look after them well.
While hardwood floors are the perfect addition to your home, it's important you take care of them.
This is a technical job which needs to be done right to maintain the floor's stability and appearance. Sanding is one of the main jobs that you'll need to conduct when your floor starts to become scratched. Doing so will help to give it a brand new look and feel. This could be done by professionals, or you could hire equipment to carry out the work yourself.
Benefits of Hiring & Sanding Your Own Floors
There are lots of benefits to DIY floor sanding if you're confident and well-prepared.
Cost
A professional sanding service is likely to cost much more than hiring a sander and doing the work yourself. You can hire the sander for the limited time that you'll need it without having to buy the machine outright. Hiring is a cost effective and space saving option.
The machine will also come with insurance so that damages won't cost much money. You also don't need to worry about buying a whole new sander for yourself if something goes wrong.
Work on Your Own Property
Working on your own property can be incredibly fulfilling. You'll gain the satisfaction of knowing that the finished work was done by your own hands and it will be a fantastic talking point when guests ask about your new flooring.
Learn a New Skill
Self-improvement is always a plus. Learning to sand a wooden floor is an excellent new skill which may be helpful to you in later life and means that you can help friends and family members with their floors too. They will be impressed by your skill and expertise in DIY.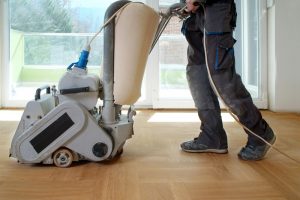 Benefits of Hiring a Professional
On the other hand, when deciding on floor sanding DIY or professional, hiring a professional to sand your wood floor also has some excellent benefits. Mainly, that the professional will come with sanding experience and will complete the job to the highest possible level.
Experience with the Job
A professional will not only be experienced in sanding wooden floors, but will come with knowledge of how to use the equipment and safety features.
They will also leave a guaranteed professional finish to your floor, where a DIY job may mean that mistakes have to be paid for, a professional would be obligated to do the work for you and correct their own mistakes.
If you fancy learning a new skill and giving your floor a makeover, Floor Sander Hire London offers top of the range sanding equipment hire at reasonable prices. You'll receive the equipment including safety gear and full instructions and advice on how to get the most out of your floor. Contact the helpful team today for support to create your dream, polished wooden floor.