Published on 28 March 2018
Posted in Floor Sander Hire
If you have a beautiful hardwood floor that needs a little bit of love and care then you might be thinking of sanding your floors. If you are then you might be thinking "what's the difference between orbital sanders and drum sanders" if so then this article is a must read as knowing the difference can save you time and money because they're not one and the same as they have wildly different uses.  This article will teach you the differences between an orbital floor sander and a drum sander.
Orbital Floor Sander
Orbital sanders are great for removing top coats of finish and dirt as they only take off a few layers at a time. This means that there is much less of a chance of ruining your flooring because it doesn't grind off as much wood. Orbital sanders are light sanders and aren't used for re-levelling as they are not strong enough and aren't designed for re-levelling, they're designed for removing finish and dirt.
Orbital sanders, a quite slow at completing a task as it's gentler than a drum sander. This sander can make quite a lot more dust than a drum sander as it takes a lot longer to complete a job, this can be a hazard if the correct protection isn't used. One problem you can run into is that in rare cases it can leave light circular scratch marks. This sander is meant only for light sanding, it can't remove imperfections or some tough coats of finish and will take a while to do its job.
This sander is suitable for beginners because it's less likely to cause damage. They're much cheaper than a drum sander and doesn't require much effort as it'll use its own weight for pressure so all you'll have to do it push it where you want it to go.
Pros
Great for removing layers of finish
Suitable for beginners
Hard to cause damage
Costs less than a drum sander
Cons
Can take hours to complete a job
Can have trouble sanding tougher finishes
Can not remove imperfections
Causes a lot of dust.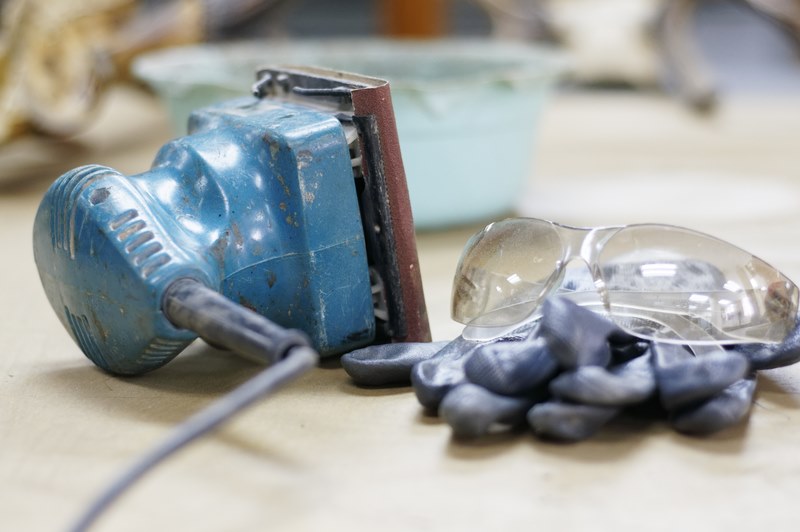 Drum Sanders
Drum sanders are a lot rougher that orbital sanders, they're used for removing thick layers of wood. Drum sanders are usually used for re-levelling an uneven floor because they use more of a cutting force than a grinding force. The drum sanders belt rotates rapidly meaning it is much more likely to damage a floor if used incorrectly as it'll remove material much quicker.
The drum sander is great for removing stubborn finishes that an orbital sander can, as it has more power than an orbital sander. It can complete jobs in minutes due to the speed of its belt, though this means that it can leave depressions on the flooring if not used carefully. The drum sander shouldn't be used against the grain as it can easily leave sanding scratches, especially at 90º angles.
Drum sanders cost quite a bit more than orbital sanders. They also can not be used in narrow spaces or in corners, so it'll be a good idea to rent an edge sander if needed.
Pros
Can complete a job faster than an orbital sander
Can be used to relevel
Can remove any finish
Produces less dust
Can be used to remove imperfections
Cons
Can create irreparable damage
Costs a lot more than an orbital sander
Can not be used in narrow spaces
Can not be used a 90º angle of the grain
In conclusion, they both have their differences, orbital sanders are used for removing finish while drum sanders are for re-levelling and removing tough finishes. They both have their own benefits, it all comes down to what level experience you have and the job.
We hope you found this article useful and informative. We have other articles with more information on floor sanding that can help. If you have any more questions you can give us a call at 0208 427 6604