Published on 30 April 2021
Posted in Floor Sanding Tips
Most people feel that sanding is the easy part of any DIY job. They just grab a piece of sandpaper and start scrubbing away. But actually, a professional sanding job is incredibly important to achieving the perfect finish for your item.
There's an art to getting a smooth finish to a piece of furniture. It gives you peace of mind that it's splinter-free, makes the furniture look newer, and allows for a beautiful new paint job too.
Before you take the plunge, it's worth understanding the best way to sand furniture.
The Best Ways to Sand
The first thing you need to do is take a look at the job at hand and decide what kind of sanding material or machinery you need to use, depending on the size of the task.
There are lots of different sandpaper options and they're all labelled with numbers. The numbers refer to the coarseness of the grit. The larger the number, the larger the grit – which makes it fairly easy to remember.
The larger your grit is, the more wood you'll remove in one go. If your sanding just needs to smoothen a surface, you'll need smaller grit, but for removing paint, you'll need larger grit.
Belt sanders are popular for professional sanding projects and are generally used for larger jobs. Because of their size and the amount of wood that they remove in one go, they're not a great option for detailed work. 
If you're just looking to sand down your detailed dining chairs, it's not the best option, but if you have a larger scale, outdoor project, it might be worth hiring a belt sander.
An orbital sander is your best option for sanding large, flat surfaces. They work in the same way as belt sanders but use a spinning wheel to sand off the surface.
They won't work for detailed pieces and are generally used to create a flat surface ready to paint. These are best for walls, doors, or cupboards.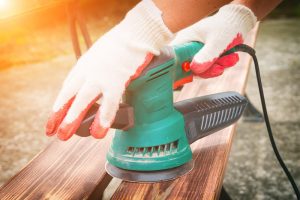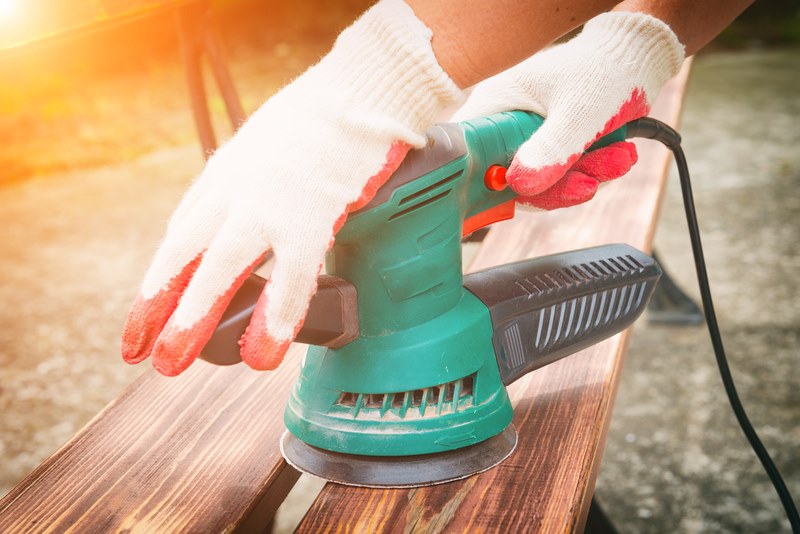 A sanding sponge is an ideal tool for more delicate areas. The sponge is flexible and can get into tight corners, so it's perfect if you have an intricate design to work with.
Sanding Tips and Tricks
Before you dive in, there are a few tips to take a glance through, just to ensure you get the most out of your sanding.
Always test your sanding material on an area of the furniture that you won't see first, e.g., the underside of a chair. This allows you to experiment with how much wood you need to remove.
If you choose to sand a larger area with sandpaper, the paper can quickly mould to your hand, meaning it won't cover the surface entirely. It's a good idea to stick your sandpaper to a more solid surface, such as a small block of wood, as this will give you a platform to keep your sanding to the same quality across your surface.
If you've chosen to use a sanding sponge or sandpaper, you should start with a coarser grit, then work your way to a finer grit to get the perfect surface.
Once you think you've finished, hold a bright light against the surface of your wood at a few different angles. It'll point out any marks that you've missed.
The smoothest surface can be confirmed by rubbing a nylon sock over the wood. If you don't hear any snagging, you've nailed it. 
Contact us 
We hope that our blog has been informative, please don't hesitate to give us a call on 0208 427 6604 or head over to our contact page to fill in our online enquiry form.