Published on 31 December 2019
Posted in Floor Sanding
There are many types of floor sanders on the market today that are ideal for repurposing and refinishing wooden flooring. The different kinds of floor sanders have specific areas of use in a flooring project. In most cases, sanders are usually rented since they're costly and they aren't used regularly.
There are rental companies where you can get these flooring tools to ensure that you get the job done right. The major challenge that most people face is choosing the best floor sander for a specific task in a wooden flooring project. Below is a list of the top types of floor sanders as well as their uses:
1. Heavy-duty sanders
One of the best known bulky and heavy-duty sanders is the drum sander. These sanders are ideal for the toughest jobs since they can tackle any kind of floor. They're effective in the removal of paint and adhesives, among other substances, especially on solid wooden flooring. However, you must be careful when using this sander since it strips a lot of floor material during the process. Heavy-duty sanders are typically best when rented since they're costly to purchase.
2. Edge sanders
These sanders are designed to work on wood edges. They're normally used to contour, face, bevel and edge wooden floors. Edge sanders make it easy to reach out to all hard places. They're smaller in size and are handheld. Most edge sanders come with an attached dust bag. Edge sanders have a table that moves vertically, making it easy to place your workpieces at more accurate heights.
3. Belt sanders
They're electric, and they have a rotating brush that works well on round surfaces. They also have a continuous sandpaper loop known as a sanding belt. Belt sanders are best when it comes to trimming, sanding and levelling wooden floors. In situations where your door has a problem when opening or closing, a belt sander can help fix this.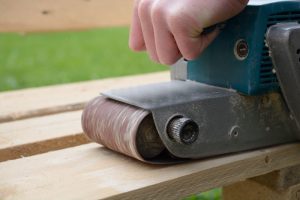 4. Smoothing sanders
These sanders are used in smoothing out both softwood and hardwood floors. The most common smoothing sanders are vibrating sanders which are lightweight and easy to manage compared to drum sanders. Smoothing sanders usually glide across your wooden floor and do not pose any damage threat on the wood. Smoothing sanders can be found in tool yards. Just like the heavy-duty sanders, the smoothing sanders are best when rented.
5. Sander vacuum
Different sander machines can sometimes create a mess. Although most of them come with bags for storing most of the dust, some may still cause a huge mess around your home. A sander vacuum helps in buffing up your wooden floor immediately after sanding. It'll help you in eliminating all dust left behind after sanding flooring.
In conclusion
The above-listed are some of the most common types of floor sanders. You can choose to rent any sanding bundles of your choice depending on your budget. Remember that your safety should come first when sanding. Before you start, as such, you must have the necessary safety equipment such as gloves, elbow pads and goggles in place to protect yourself from unfortunate incidents. We supply every accessory you will need, why not get them in a bundle. 
If you are looking at sanding your flooring and want a complete look, Floor Sander Hire London has you covered. Checkout out our floor sander bundles. If you have any questions or would like to contact us, call today on 0208 427 6604 or visit our contact page for more details.